Combine The Best Aspects Of Strength And Self-Defense In Our Muay Thai Classes
Whether you're looking to get in great shape, build your striking skills from the ground up, or take on effective real-world self-defense training, we've got you covered. Our Muay Thai Classes at Gracie Barra Burton offer high-energy workouts that produce incredible results.
From complete beginners to experienced fighters, we're helping everyone in Burton stay challenged and motivated like never before.
Fill out the short form on your screen to learn more or to get started today!
What Can You Expect From Our Muay Thai Classes?
For starters, we have fun. A lot of fun.
Our goal in this program is to keep your heart racing and your muscles moving. In order to do that week in and week out, we need to make sure you stay motivated and enjoy every minute of every class.
In our Muay Thai program, you'll take on a dynamic combination of strength training and cardiovascular exercise. And you'll quickly learn how to strike with power and speed using your fists, feet, knees, and elbows.
Join us at Gracie Barra Burton for:
Improved striking skills from any position
Boosted situational awareness and reaction times
Core self-defense skills for any threat
Complete confidence in yourself and your abilities
And Yeah, You Can See Incredible Results In No Time
Think about what it takes to execute a successful fitness routine. You need energy. You need a dynamic routine. You need motivation and support.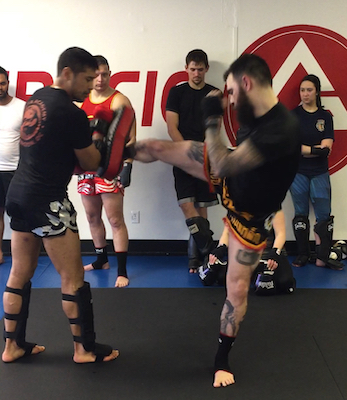 We have it all.
Our head instructor has over 30 years of experience and travels annually to Thailand to train at professional Muay Thai gyms to ensure that the experience we're providing is as true to form as it can be! Our Muay Thai program offers incredible self-defense skills for real-world and competition settings. But it ALSO offers you an incredible path to sustainable success.
We focus on teaching the correct form so that everyone can be successful with enough hard work and dedication. This program brings people of all backgrounds and fitness levels together for a heart-racing workout and an incredible sense of accomplishment.
We're helping people across Burton:
Burn fat and build incredible strength
Tone every muscle in your body
Develop speed, agility, and athleticism
Boost your cardiovascular health in no time
Ready To Get Started? Take On The Best Muay Thai In Burton Today!
Enroll In Your First Class Today!
Don't settle for just a cardio kickboxing class, come to Gracie Barra Burton to get all of the benefits regular kickboxing can provide and more with our Muay Thai program. Heart-racing workouts and real-life self-defense skills are not out of your reach!
We're helping men and women across our community thrive with dedicated coaching and unwavering support. Just fill out the short form on your screen to sign up today!